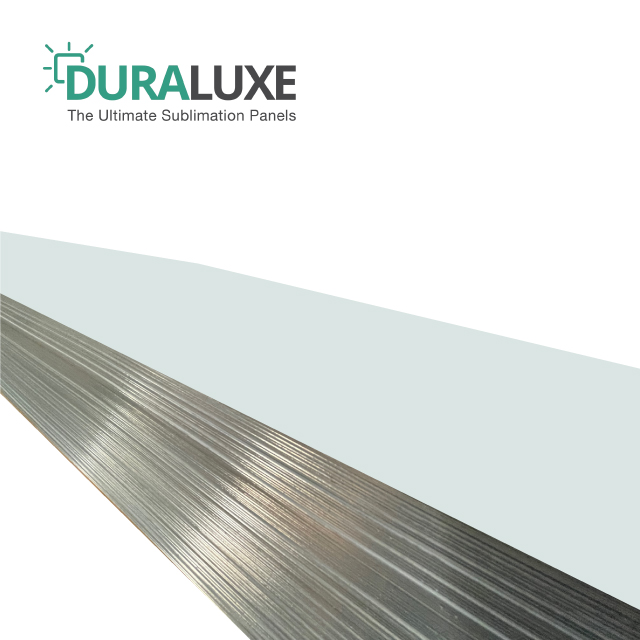 DURALUXE HD DYE SUBLIMATION PANEL
Duraluxe takes aluminium sublimation panels to the next level, the high-definition panels are specifically designed to withstand years of exposure to sunlight and severe weather conditions. We combined the scratch-resistance and durability of powder coating with the depth and color vibrancy of high resolution imaging. We also added our Anti-Graffiti formulations for easy maintenance and to protect the finishes from vandalism. With Duraluxe you can do so much more!

Custom sign production requires a variety of materials, including rigid materials known as substrates. At Creative Graphic Supplies, we have a wide range of rigid substrates, including composite panels, PVC sheets, CG flute structures, and sublimation panels. A variety of supplies are available for different applications, from flexible foam PVC to aluminium composite panels (ACP) for severe weather conditions.
To maximise the visibility of your signs and get the most from your budget, selecting the right substrates for the task at hand is important. At CGS, we have substrates for every material and project, with various product options and sizes available to choose from, We also offer a routing service on substrates supplied by CGS.
Types of
rigid substrates
High-quality signs require professional materials and application. At CGS, we can help you find the right materials based on the surface, the location, and the size of the sign. From affordable foam core products to lightweight PVC and heavy-duty aluminium composite panels, we have everything you need at a price that can't be beaten.
Rigid substrate
applications
The materials used in substrates have a huge impact on the appearance and longevity of the sign. For example, foam core products are designed for temporary applications, PVC is used mostly for indoor signage, and dye sublimation panels offer excellent surface tension. Solid aluminium sheets are ideal for long-term or permanent use, from shopfronts and traffic applications to real estate signs and parking lots.
Great products and friendly customer service 
At Creative Graphic Supplies, we do more than just sell products; we also supply solutions to the print and signage industry. We offer expert advice, friendly customer service, and reliable consumer protections. We have more than 80 years of combined industry experience in Queensland, so rest assured that you can rely on our proven digital and display solutions. Our high-quality substrates will support your work if you're involved in the sign industry.
If you want more information on substrate signs or any of our products, please contact the Creative Graphic Supplies team today.