Product Type
Search CGS range of products by product type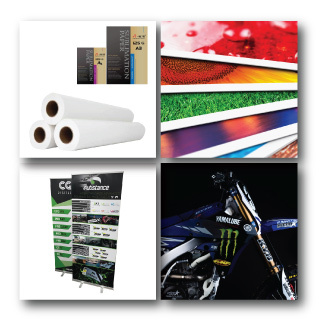 There are lots of ways to spread the word, with large banners often used as high-impact advertising and promotional tools. At CGS, we supply a number of high-quality banner solutions, including mesh banners and vinyl banners in various sizes and configurations. We combine outstanding products with low prices and expert advice, as our team is committed to helping you choose the right items for your intended application. At CGS, we provide high-quality mesh and vinyl materials to bring your banners to life.

Professional drafting papers suitable for CAD, line drawings, inkjet plotters and plan printing devices. Being 100% Australian made, carbon neutral with a high white point it meets the international standard for permanent papers (ISO 9706)

Paper, Substrates and accessories for high definition dye sublimation systems.

Creative advertising campaigns and communication strategies often use floor graphics. Also known as floor decals or floor stickers, these products are simple to apply and very effective at conveying the message.At Creative Graphic Supplies, we offer a wide range of floor signage solutions, including indoor floor graphics, outdoor pavement graphics, and functional industrial decals.

Heat transfer vinyl has many applications, with this versatile material widely used for fabrics and soft surfaces. At CGS, we stock a number of high-quality vinyl supplies, including printable heat transfer vinyl products. We have vinyl heat transfer items in various sizes and options, including products designed especially for polyester fabrics. Our products are compatible with solvent, latex, and UV curable ink sets, and we also have high-quality heat transfer application tape. So, if you're looking for printable heat transfer vinyl in Australia, you've come to the right place.

Magnetic sheeting for solvent, eco-solvent, latex, and UV inkjet printing. This versatile magnetic substrate allows you to print directly to magnet without the need to over-laminate. The material can be cut to any shape with cutters, plotters, or even a pair of scissors.

Overlaminate products provide protection for a variety of printed graphics. At CGS, we keep a range of overlaminate films in stock at all times, from premium and intermediate solutions to specialised products for commercial spaces. Our products are available in various sizes and finishes, including clear gloss and clear matte. Also known as overlaminate vinyl, these protective films work great for a wide array of applications. At CGS, we supply high-quality overlaminate products to protect messaging and maximise visibility.

Outstanding printing results depend on high-quality paper materials. At Creative Graphic Supplies, we offer a wide variety of paper solutions for commercial and creative applications. We have backlit film, sublimation paper, poster paper, synthetic poster paper, pull-up media, micro-suction PP film, and so much more. From standard sizes to wide format paper and PP film roll products, we will help you to find the perfect solution for your project. If you want durable paper products for demanding commercial applications, we are here to assist.

Spare parts for Roland and Secabo vinyl cutters.

Adventure sports enthusiasts love extreme graphic applications. At CGS, we specialise in Powersports graphics, with our team offering a range of printing, laminating, and heat transfer materials and accessories. These products have been designed for low surface energy (LSE) vehicles, including motorbikes, karts, and other Powersports applications.

Custom sign production requires a variety of materials, including rigid materials known as substrates. At Creative Graphic Supplies, we have a wide range of rigid substrates, including composite panels, PVC sheets, CG flute structures, and sublimation panels. A variety of supplies are available for different applications, from flexible foam PVC to aluminium composite panels (ACP) for severe weather conditions. To maximise the visibility of your signs and get the most from your budget, selecting the right substrates for the task at hand is important. At CGS, we have substrates for every material and project, with various product options and sizes available to choose from, We also offer a routing service on substrates supplied by CGS.

Self-adhesive vinyl has a wide array of applications, from small DIY projects to large signs and commercial displays. At CGS, we stock a number of high-quality vinyl supplies, including self-adhesive vinyl rolls in various sizes, and material options. We have premium cast vinyl, monomeric and polymeric vinyl, and a full range of Metamark sign vinyl in vibrant colours. We also have extensible digital wrapping media with advanced air release and high adhesive strength. For the very best self-adhesive vinyl products in Queensland, we have got you covered.

Creative Graphic Supplies provides sign vinyl products to creative industries across southeast Queensland. We stock a wide range of self-adhesive vinyl materials for sign-making applications. From internal shopfront promotions to long-standing advertising campaigns, our quality signs help to boost visibility and maximise sales. Our sign vinyl products can be used to create temporary or permanent signs across indoor and outdoor locations. We specialise in large format sign supplies and have everything you need in one convenient location. If you need vinyl sign writing supplies in Australia, you've come to the right place.

Quality Pull up banner stands. Visual size 850mm x 2020mm.

CGS rage of tapes including application tapes for sign vinyl and heat transfer products. Masking tape and range of Admiral double sided tapes made in the UK.

Quality range of textiles including self adhesive woven fabric, soft black backed fabric and canvas suited to solvent, latex and UV printing applications.

Tools, accessories and cleaning products for sign professionals.

Window film is the ideal signage solution for retail and office applications. It helps to promote corporate identity and provides functional privacy screening in busy commercial environments. At CGS, we offer a variety of window film products and accessories, including privacy window film, frosted window film, one-way vision window film, and etch window film for traditional window effects. Our products have been selected for quality and durability, as our team is committed to helping you find the best materials for your workplace environment. For the best window film in Australia, Creative Graphic Supplies is the solution.