Admiral Tapes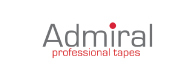 Admiral professional tapes are versatile tools that hold things together, seal them and even make them look nicer. Tapes are made from different materials depending on what it's supposed to do. Still, most of them use sticky adhesive material and some backing material, so they can be removed easily by peeling or pulling the backing off the sticky side.
We offer several types of tape, including double-sided tapes and finishing tapes. Double-sided adhesive tape is a versatile type of tape that is widely used in applications such as securing posters, sealing envelopes, and creating arts and crafts. Its unique design enables it to stick two surfaces together seamlessly, without showing the sticky surface or tape layer. As a result, it is often preferred by crafters who want to create neat and professional-looking projects.
Admiral professional tapes are designed to have high adhesive strength, even under high temperature and humidity conditions. It has excellent adhesion to most substrates, including paper, cardboard, glass cloth, leather, rubber and metal.
Admiral professional tapes
— the best choice for schools and offices
If you're looking for a tape that is extremely strong and durable, look no further than Admiral professional tapes. This tape is made from high-quality materials and has a strong adhesive that will not leave residue or damage your surfaces. It's also easy to tear, so you don't have to worry about getting the right amount of tape off the roll.
Before expanding into retail and trade conversion for other industries early in the 1980s, Admiral started converting short rolls for the carpet industry. With more than 30 years of experience and working out of a cutting-edge plant in Southampton, our main focus is now on the conversion and supply of double-sided tapes for OEM, service and aftermarket organisations.
Buy your tapes from Creative Graphic Supplies
Creative Graphic Supplies has over 80 years of combined industry experience that delivers high-quality print and sign materials. Our products are designed for a range of applications and solutions. Our friendly, knowledgeable staff will help you find the right Admiral professional tape for your project. We offer fast, reliable delivery and exceptional customer service. Get in touch with us today to order your Admiral tapes!