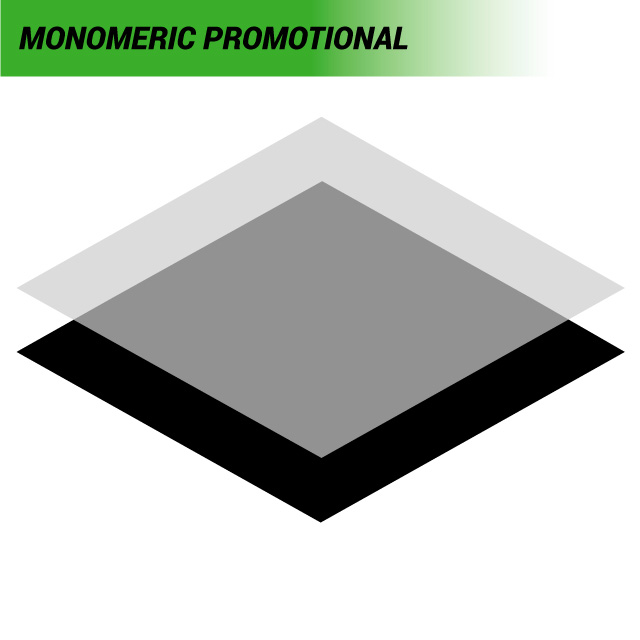 MONOMERIC PROMOTIONAL OVERLAMINATE
Promotional grade overlaminate for short to medium term applications.
CG Digital Glitter - 95 Micron - UP TO 1 Year outdoor life.
CG Matt Tex Foor - 200 Micron - UP TO 1 Year outdoor life.
Digi Lam - 80 Micron - UP TO 2 Years outdoor life.
Metamark 100 Series - 70 Micron - UP TO 3 Years outdoor life.
CG Digital Prolam - 80 Micron - UP TO 1 Year outdoor life.
Overlaminate products provide protection for a variety of printed graphics. At CGS, we keep a range of overlaminate films in stock at all times, from premium and intermediate solutions to specialised products for commercial spaces.
Our products are available in various sizes and finishes, including clear gloss and clear matte. Also known as overlaminate vinyl, these protective films work great for a wide array of applications. At CGS, we supply high-quality overlaminate products to protect messaging and maximise visibility.
Benefits of
overlaminate film
Regardless of the application, overlaminate film offers a range of practical and aesthetic advantages. We have overlaminates with UV stability, which helps to keep your image vibrant season after season. Overlaminate films provide resistance against abrasion, humidity, UV, and solvents. At CGS, our stable overlaminates help to preserve and protect your valuable prints. 
Along with extending the life of graphics, this protective product can also be used to alter appearance. There are various options available, with common effects including gloss, matte, or textured finishes. Polymeric calendered overlaminate allows for thicker and more vibrant graphics, and it's also easier to apply and remove when required. At CGS, our high-performance overlaminates provide excellent visibility.
The CGS team will help you select the right overlaminate for your project and environment. For example, you may require products with multidirectional stretch, or you may need to choose between cast and non-cast overlaminate to reduce shrinkage and edge curl in specific environments. Whatever the surface or location, we can help you find the perfect product for your intended application.
Advanced materials and reliable service
At CGS, we offer a wide range of quality overlaminate solutions. We support Queensland businesses with advanced products for aqueous, solvent, latex, and UV curable ink technologies. With more than 80 years of combined industry experience, we are a recognised and trusted digital and display solutions supplier.
We combine technical expertise with industry experience to drive your business forward. Along with graphic supplies in Brisbane, we deliver professional consultation as an extension of your company. 
If you're looking for overlaminate or other print and signage solutions, please make an order or contact the team at Creative Graphic Supplies.