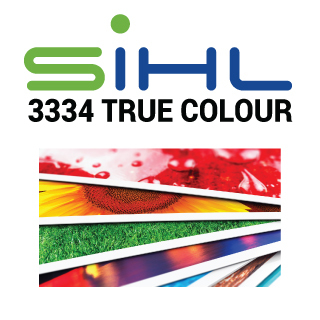 SIHL 3334 TRUECOLOUR COATED
Bright white 160 GSM, matt, coated special paper for posters and indoor advertising applications. This paper is optimised for printing with aqueous ink systems. Prints are splashproof, resistant to erasure and impress with high colour density and vibrant colours. This material achieves very good contour sharpness and is therefore predestined for the printing of CAD drawings. Its weight of 160 g/m² provides good flatness and stiffness.
Outstanding printing results depend on high-quality paper materials. At Creative Graphic Supplies, we offer a wide variety of paper solutions for commercial and creative applications. We have backlit film, sublimation paper, poster paper, synthetic poster paper, pull-up media, micro-suction PP film, and so much more.
From standard sizes to wide format paper and PP film roll products, we will help you to find the perfect solution for your project. If you want durable paper products for demanding commercial applications, we are here to assist.
Film and paper materials for all use cases
At CGS, we have access to a wide array of quality film and paper solutions. Our backlit film is ideal for lightbox projects, with this material printable with solvent, latex, and UV-curing inks. This product produces vibrant colours and rich black surfaces in reflected or transmitted light, making it ideal for a range of advertising and creative applications. We also stock dye sublimation paper and sublimation transfer paper, which provides excellent colour reproductions in dye sublimation machines.
Our standard paper range allows various printing sizes in solvent, latex, and UV printers. Matte finish poster paper with high opacity and bright, high-strength gloss paper products are also available. We offer a number of synthetic film products with a matte finish, which are ideal for heat-resistant and waterproof posters. We also have PP film products made from polypropylene, which uses micro-suction adhesive technology. If you need to create banners, posters, or prints of any kind, we can help you find the perfect solution.
The benefits of Creative Graphic Supplies
At CGS, we specialise in high-quality print media and sign materials, especially large format solutions. As a proud Brisbane business with more than 80 years of combined experience, we have worked with countless businesses across southeast Queensland. Regardless of your size or sector, we offer quality products and expert advice based on your needs.
If you're looking for sublimation paper in Australia or other types of film and paper products, we are here to help. Please review our products, make an order, or contact our team for more information.